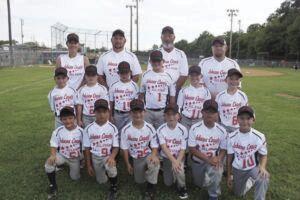 By Tim Chambers
GRAY— Pint-sized hearts gave gallons full of effort in the opening game of the District All-Star 7-8-year-old tournament played at Daniel Boone Little League Field. Johnson County gave it their all but fell 12-11 to Bristol on Friday after leading the game for four innings.
It was déjà vu all over again on Sunday.
Johnson County led the game 5-4 going into the final inning but fell 6-5 to Daniel Boone.
Daniel Boone 6
Johnson County 5
The scorching hot sun was brutal on Sunday but fans packed the park to watch Johnson County and Boone hook up in a donnybrook.
Things started out well for Johnson County in the first inning.
Nathaniel Walker, Carson Jennings and Brock Jones all collected base hits and scored. Kaden Blevins, Isaac Lewis and Hunter Paisley each drove in a run with base hits.
Johnson County led 3-0.
They added another one in the third to go up 4-1. Brock Jones singled, then scored on a Blevins' triple, but it should have been more.
Boone argued that a runner had missed home plate after he was called safe and asked for an appeal. The runners were then called out by the base ump some 120 feet away from home where the plate ump was standing. This set off a fireworks show among fans from both sides but level heads prevailed and play resumed.
Boone would score two runs in their final at-bat to overcome a 5-4 deficit and move on.
Nathaniel Walker and Brock Jones had three hits apiece to lead Johnson County.  Kaden Blevins and Hunter Paisley provided two apiece.
Johnson County got some strong play for its left side of the infield. Carson Jennings made some huge defensive plays at third. Blevins was a mini vacuum on short.
Bristol 12
Johnson County 11
Johnson County led over the first four innings only to watch Bristol battle back to take a 10-8 lead in the fifth.
Johnson County scored four runs in the first inning and all of them came with two outs.
Brock Jones, Kaden Blevins, Juan Mejia and Isaac Lewis all had base hits and scored in the first inning, giving JC a 4-0 lead.
Charlie Jennings drove home Eli Tester and Nathaniel Walker with a base hit in the second inning that helped extend their lead.
Blevins and Mejia would add two runs to Johnson County's total in the third, but they wouldn't tally again until the sixth.
This allowed Bristol to battle back and take a 10-8 lead in the fifth, but Johnson County would battle back to go one up in the bottom half.
Jamie Jones ripped a single to start the sixth, then went to third on a smashing double by Sawyer Marshall. Eli Tester drove in both runners with a base hit; then Carson Jennings smacked a two-run double to tie the game at 10 all.
JC went up 11-10 when Jones drove in Jennings with a base hit.
Bristol had a walk-off base hit that scored a pair in the sixth.
Brock Jones had four hits to lead JC. Charlie Jennings added three hits, as did Isaac Curd. Blevins, Mejia, Hunter Paisley, Ethan Stout, Sawyer Marshall, Caleb Jennings and Tester provided two hits apiece. Nathaniel Walker and Curd each had a base hit and scored.
"We proved that we can play with all these teams," said Johnson County's manager Charlie Jennings. "It hurts because we lost two tough ones. Boone had 32 players to pick an All-Star team from and we had 12. Both games came down to the last inning.  You always want that last at-bat, but we didn't have it in either game. But I'm super proud for the way they battled. Each of them gave it their all."