Kermit Lane "Bill" Lowe of Telford passed away peacefully at home, surrounded by loving family, on August 13, 2017. He was 96 years old. He is survived by his wife of 58 years, Agnes Ratcliff Penick Lowe, step-children Donna Penick (North Hills, CA) and Edward Penick (Roanoke, VA), daughter-in-law Eline Penick (Roanoke, VA), grandchildren Samuel Hartsfield (Portland, OR), Anna Dawahare (Porter Ranch, CA), Tech Sgt John Penick (Okinawa) and Elizabeth Penick (Asheville, NC), five great-grandchildren, niece Pat Lowe Reece, and many other nieces and nephews. He was preceded in death by parents Callie Shoun Lowe and Kemp Lowe, five brothers, and four sisters. He was the longest-lived member of the family.
Bill was born Jul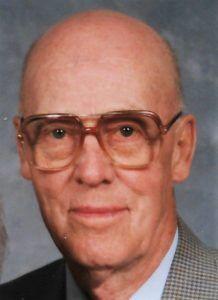 y 8, 1921, and grew up in the Bethel community of Johnson County on a farm originally cleared by his ancestors in the early 1800s. He moved to Carter County and then to Johnson City, where he worked for several furniture and appliance companies. In 1959, he married Agnes Ratcliff Penick, a widow with two young children.
Bill was driven to have his own business, so in 1968, he started Bill Lowe's Carpet Shop, whose motto was "We measure by the golden rule." After several years in Johnson City, he relocated the business to Jonesborough. Because of his integrity, many area churches and families chose him for their carpet needs. He served his customers well for over 25 years.
Bill's special interests were family, farm life, Buicks, antique cars, and travel. He and Agnes traveled to Hawaii, the Caribbean, Alaska and most of the lower 48 states.
Bill and Agnes are faithful members of First Baptist Church in Jonesborough, where he served in different capacities for many years. He was active in the Bowmantown Ruritan and Meals on Wheels. Bill was a faithful and devoted husband, generous to those in need, and much loved by his family.
Funeral services for Mr. Lowe will be conducted Thursday, August 17, 2017, 1:30 PM at Dillow-Taylor Funeral Home with Dr. James Harrison officiating. The family will receive family and friends from 12:00 to 1:30 prior to the service.
Graveside services will follow at Monte Vista Burial Park.
Donations may be made to one of the following; First Baptist Church, 201 East Main Street, Jonesborough, Tennessee 37659; Kari's Heart Foundation, 701 North State of Franklin, Suite 8, Johnson City, Tennessee 37604; or Alzheimer's Disease Research, 22512 Gateway Center Drive, Clarksburg, Maryland 20871.
Condolences may be made to the Lowe family online at www.dillow-taylor.com
Dillow-Taylor Funeral Home and Cremation Services, 753-3821